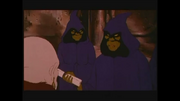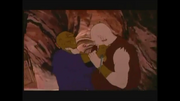 The
sub-human invoice
 (also named 
Jacques, Pauley, and Claude
) was an invoice made up of orcs sent to
Firekeep
by
Nekron
to negotiate with
King Jarrol
. The king rebuffed the offer. However, a second group of sub-humans had infilrated the palace and kidnapped
Princess Teegra
. When the king and
Prince Taro
heard Teegra's screams, the sub-humans drew their
weapons. However, Taro stabbed the nearest orc and shoved him back into another. They both fell to the floor, where Taro slashed them with his sword. The remaining sub-human drew a dagger and charged at Jarrol, who grabbed the orc by the wrist and then choked him to death with his free hand. Jacques is voiced by Vincent Price, Pauley is voiced by Ray Oliver, and Claude is voiced by David Brimmer.
Ad blocker interference detected!
Wikia is a free-to-use site that makes money from advertising. We have a modified experience for viewers using ad blockers

Wikia is not accessible if you've made further modifications. Remove the custom ad blocker rule(s) and the page will load as expected.