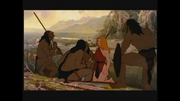 Josephine
was a young warrioress who lived in
Larn's village
during
Nekron
's attacks. She was captured by the
sub-humans
who invaded the remains of the village. It appears that they attempted to molest her before
Larn
killed a nearby orc with a mace. Her fate after this point is unknown, although the sub-humans most likely beat, raped and murdered her.
Ad blocker interference detected!
Wikia is a free-to-use site that makes money from advertising. We have a modified experience for viewers using ad blockers

Wikia is not accessible if you've made further modifications. Remove the custom ad blocker rule(s) and the page will load as expected.