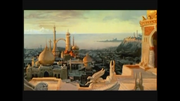 Akatar
is the name of city in Fire & Ice. It is located beside the ocean and appears to be a port city.
Fire & Ice
Edit
Akatar appears in Fire & Ice as the city which Juliana brings Teegra to in order to bord a ship which will take them to Icepeak. They are followed by Larn, but he arrives to the city too late and Julianna escapes to Icepeak with Teegra. However, Prince Taro's band arrives shortly afterward and also board a ship headed for Icepeak. Larn then leaps onto the back of the ship as it pulls out and hides there until he makes it to Icepeak.
Ad blocker interference detected!
Wikia is a free-to-use site that makes money from advertising. We have a modified experience for viewers using ad blockers

Wikia is not accessible if you've made further modifications. Remove the custom ad blocker rule(s) and the page will load as expected.